IT Consulting, System Design, Implementation
Do you have an IT project that requires additional expertise or extra resources? We can help. We have years of experience in the design and implementation of IT systems for small and mid-sized businesses. Our expertise is with servers, virtualization, and networking; however we also provide resources for hardware or software roll-outs. Outlined below are just a few of the areas where we can help your business.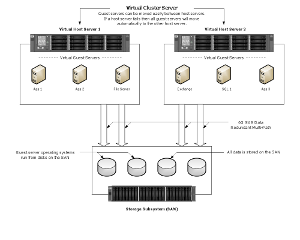 Server Consolidation and Virtualization
If you have multiple servers and you are not yet using server virtualization then you are missing out on one of the best money, resource, and space saving improvements to IT in the last 15 years. Having multiple virtual servers on a single piece of hardware and fully utilizing the power within that hardware has proven to be a real game changer in IT efficiency.
If you already have virtualized servers but have not considered host server clustering or virtual server replication, you are not taking advantage of a big reliability improvement for your server systems.
We want to show you how you can improve reliability, improve efficiency, and save money by implementing virtualization and server clustering for your servers. Whether you have a new server installation or an upgrade project, we are here to help.
Microsoft SQL, Microsoft Exchange, and Active Directory Servers
The trendy thing these days is to move all of your servers to the cloud and if that is what you want then we can help you with migration or hosting; however this doesn't always provide the best solution to larger businesses. There are many good and valid reasons to keep important line of business servers locally on-site. An on-site server installation can have higher performance, better security, and lower cost than a cloud equivalent. And if your servers are installed using modern virtualization, clustering, or mirroring they will have reliability exceeding that of the Internet-cloud combination.
We have the expertise to help you with. Give us a call to find out what solution best fits your company.
Networking and Firewalls
Is it time for a network upgrade? Are you moving to a new office space and need a new network? Now may be the time to improve your network speed by introducing 10 G networking between your servers and your edge switches (desktop switches). The cost of 10 G networking has now come down to the point where small and mid-sized businesses can easily afford the improved speeds. We can evaluate your IT systems and business needs to see if your network can benefit from a system upgrade or higher speed 10 G networking.
The Internet firewall has always been an important safeguard for your network but with the current threat landscape the firewall has taken on added importance as the first line of defense against malware and intrusions. Today we seldom provide basic firewalls but instead provide security appliances from companies like SonicWALL, which include web filtering, virus scanning, and intrusion protection along with the normal firewall security.
If you require advice on a new firewall, assistance with firewall configuration, or help with VLANs or routing then please call us.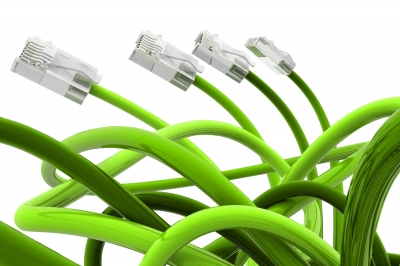 Network Cable Installation
If you require network or data cable installation for your office in the Toronto Ontario area then give us a call for a competitive quote. We specialize in new cable installations from 1 to 150 runs or additions to current network installations. We also can test, repair, or re-terminate an existing network cable installation.