Will Cloud benefit your business?
The "Cloud" is the new way of doing business technology. At the most basic level the "cloud" is just a standard IT product like an Office software suite or an email system that you are renting from an outside provider rather than purchasing yourself. While this is essentially what "cloud" entails, it does not explain the key benefits that cloud offers. The popularity of the cloud comes from the key benefits: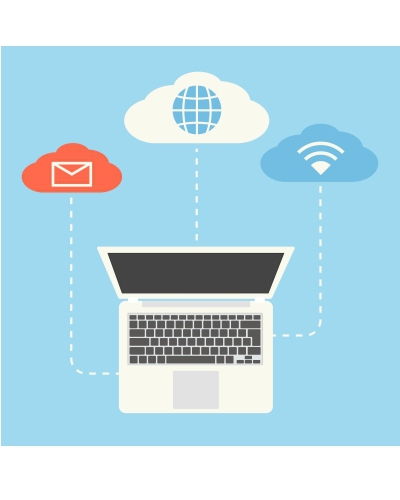 Flexibility

Scale your technology along with your business. For example, if your company is growing fast, you can add new users or services very easily without restrictions or concerns that you need to purchase more servers and server software. Cloud allows you to get exactly what you need any time with the comfort of knowing you can change as your business changes.

Accessibility

With most "cloud" services, i.e. email, file sync, file sharing etc., you can access your services anywhere at any time you have an internet connection. This provides you with on-the-go capabilities so you can work anywhere you want or need.

Regular Maintenance is done for you

No need to worry about having to stay on top of regular maintenance such as software patching, upgrades, or support of the hardware as it is all done by your cloud provider (host you are "renting" from).
We provide cloud hosting and cloud migration, as well as traditional on-site and hybrid (on-site and cloud) IT systems. We have the knowledge and insight to guide you and provide an unbiased opinion on the benefits or drawbacks to adding cloud services to your business. Please call us for more information or to setup a meeting.
Cloud Hosted Microsoft Exchange Email
If you need email that is built for business then you should look no farther than the Microsoft Exchange email system. Exchange paired with Outlook is the standard email system used by business both large and small. Microsoft has refined Exchange over the years to give businesses all of the features they need including:
Full synchronization with mobile devices and tablets
Sharing of information, such as giving assistants access to parts or all of a specified mailbox
Email retention and auditing
Email archiving
Full features of Outlook on Windows computers and MAC computers
That is only a small list of the features available with Exchange, no other email system offers such a full range of business features.
We offer hosted Microsoft Exchange email as a stand-alone service or as part of our small business Effortless IT package. We will provide added benefits beyond the basic features of hosted Exchange, including full backup, advanced Spam filtering, and all of your email data remains here in Canada in our secure data centre.
Cloud File Sync for Business
If you need access to your files from anywhere on any device then cloud file sync is what you need. As a business, it is important that you get a reliable and secure file sync service including key business features, which is often not include in consumer (personal) oriented file sync services.
We provide a business file sync service that offers many benefits and will not compromise your company's data. File sync includes:
Security

All of your data is fully encrypted and remains in our secure data centre located in Toronto Canada
We have the ability to wipe the synced data from a lost or stolen device, so you can feel safe with our sync service

Team Share

Multiple people can have access to the same files, this ensures better communication, efficiency, and consistency allowing teams to collaborate effortlessly

Simple Guest Access

You can easily give clients or partners access to specific files or folders with a simple email activated guest access feature

Synchronization

Synchronize to multiple computers and mobile devices allowing you to work anywhere you have an internet connection
We offer File Sync for business as a stand-alone service (we can even add file sync to your existing office file server) or as part of our small business Effortless IT package. You get full business features, secure encryption of your data, and all of your data remains in our secure data centre here in Toronto Ontario Canada.
Cloud Migration Services
You have decided to move to Office 365 or other cloud services but now you are facing the hurdle of migrating your data to the cloud. If your business is very small, only 1 or 2 employees, or you have very small amounts of data the task of migration can be fairly straight forward; simply upload the data over the Internet. However if you have lots of data or more than 5 mailboxes, migration can take significant time, resources, and expertise. For email or cloud migration, we use methods that allow us to upload your data to the cloud without interfering with your current access to that data. The data upload operation can take many days, all done in the background while you still have full access to the data. This will allow you and your employees to continue to work uninterrupted, saving you the expensive cost of downtime.
We use the latest tools and methods to make data migration as painless as possible. Please call us for more details and a quote on your migration needs.